Ruthlessly handmade
I design and make costumes, blending traditional methods like delicate hand embroidery and tambour hook beading with rogue punk hot-glue improvisation to create wearable art for performers and fashionable weirdos. My work has been seen on stages in Las Vegas, Seattle, Chicago, Hong Kong, London, Sydney and beyond.
Design: Smokee LeFaux (Miss Gay Seattle 1985)
Worn By: Miss Indigo Blue (Miss Exotic World 2011)
Construction: Danial Webster
Photography: Honey Beavers
Couture Hand Embellishment: Taffeta V.


Legendary Seattle drag queen Smokee LeFaux originally conceived the idea for this gown - "Splash" - a full decade before the debut in 2015. Designer Danial Hellman constructed the elements, and it languished in a partially-formed state for years until it was rescued by Miss Indigo Blue, who partnered with Danial and Smokee to finalize the vision.

I was commissioned for the daunting task of hand sewing the lush embellishment of sequins, beads, and pearls on both the large peplum overskirt and the bodysuit worn beneath. It took almost 10 months of daily stitching to complete - the result is a couture showpiece seen here, at the Burlesque Hall of Fame 2015 Icons & All Stars Showcase. Miss Indigo Blue brings it to life and has thrilled US and international audiences with this showstopper.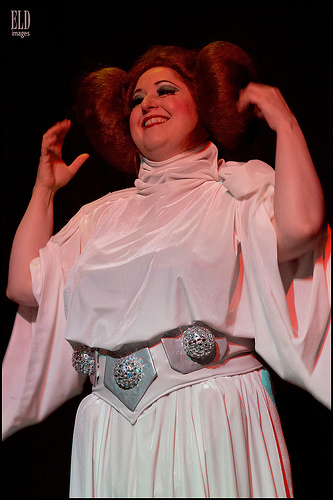 Worn by: Cherry Killer Tomatoes
Photography: Samantha Bessent/ELD Images
Design/Construction/Embellishment: Taffeta V.
Cherry Killer Tomatoes came to me with the idea for a disco Leia costume, transforming from the classic Princess look into the sexy Jabba-slayer bikini. The look is larger-than-life, and more a caricature/suggestion of the original (rather than a replica), supporting the comedic tone of the act.

The gigantic, removable hairpiece is lightweight and breathable, constructed on a custom Fosshape base. The disco ball details on the belt are a fun visual connection to the style of music, and the bikini has tear-away skirt panels for the final reveal.
Worn by: Ernie Von Schmaltz
Photos: Rick Priest, Meneldor Photography
Custom body design/construction/embellishment: Taffeta V.
Elsa/Ernie Von Schmaltz is a veteran performer with two distinctly gendered personae - both Ernie and Elsa regularly appear among Seattle's premiere burlesque emcees and performers.
Ernie developed an epic reverse-strip act, and suddenly needed a more complete comedic male body illusion.

The "skin-suit" is made from a breathable, high-performance sports mesh, with hand painted shading, realistic silicone nipples, and individually hand-knotted body hair.
Embellishment, needlework, millinery, and other curiosities, hand made by me
I'M A PROFESSIONAL WARDROBE MISTRESS
which means I have extensive experience managing costumes and dressing humans in every conceivable bizarro backstage situation.
what my clients have to say
Performers, Producers, Activists
"Not only has Taffeta V. saved our showbiz butts with her amazing and meticulous wardrobe assistance, but she is also a lovely human being to work with...her presence is always a fabulous addition to the backstage environment!"
Costume Designer, Atomic Bombshell, Aerialist, Mermaid
"Taffeta is always willing to learn, and is humble and polite in professional working environments. This is an uncommon trait. It's quite delightful to work along side Taffeta, and she's a valuable person to have on one's team."
Atomic Bombshell, Instructor at Miss Indigo Blue's Academy of Burlesque
"The fastest quick change dresser in the west. Seriously! What an amazing, professional, sweet, and wonderful human. So thankful to have worked with her backstage for a number of years. Taffeta V. is the bees knees!!"
MC, Chanteuse, Lover of Rubber Ducks
"In the world of burlesque, where your act is dependent on your costume and props fitting and working properly, Murphy's Law holds that the most important piece of your costume will fail three minutes before you go onstage. Taffeta is the one you want at your side when that happens. Her breathtaking knowledge of costuming, her encyclopedic problem-solving acumen, coupled with her genuine care and concern for your being, turns potential disasters to relief and triumph.
Taffeta also possesses that uncanny ability to forsee a problem that might occur, and fixing it before it has a chance to rear its head. And because she has an artist soul, she will never let you go onstage unless you look and feel the best you can be. (I have also stalked her online to follow her beading and embellishment projects for the top performers in the business, and I am in awe of the superhuman talent for breathing beauty in life in her work.)
She also somehow creates a zone of calm, mindfulness, and good humor in the chaotic miasma that is backstage. All while looking stinking cute! If anything can fluster her, I don't think it's been invented yet. I wish Taffeta could be at every show, at every Festival."
RuPaul's Drag Race, Season 8
"Costumes discombobulate off your body during a live show, sometimes when they shouldn't. Taffeta V. is THE gal you want backstage. She'll get you onstage, on time & looking flawless. She's the MacGyver of stage craft."
Career highlights
The Atomic Bombshells
Company Wardrobe Mistress
The Moisture Festival
Company Wardrobe Mistress
Verlaine/McCann Productions
Company Wardrobe Mistress
Miss Indigo Blue
Costume Prep and Packing Manager, Miss Exotic World Tour 2011
Seattle Burlesque Olympics (2012)
Gold Medalist, Fastest Quick Repair
Design/Fabrication Clients
J. Von Stratton | Danial Hellman | Teatro Zinzanni | Connors & Co. Events | Lily Verlaine | Verlaine/McCann Productions | The Atomic Bombshells | DeLouRue Presents | Miss Indigo Blue | Waxie Moon | Cherry Killer Tomatoes | Solange Corbeau | Pixie Parcelle | Jo Jo Stiletto |The Moisture Festival | Ernie Von Schmaltz
Wardrobe Services Clients
The Atomic Bombshells | The Moisture Festival | Verlaine/McCann Productions | J. Von Stratton |Miss Indigo Blue | Waxie Moon | Buckaroos USA | Big Time Rush | Madame X and her Lawyer
Interview
Behind the scenes at Land of the Sweets Part 1: Wardrobe Mistress Taffeta V. All about my work with Verlaine/McCann's long-running holiday favorite, Land of the Sweets: The Burlesque Nutcracker
Hire me
To inquire about commissions, rates, and booking availability, please email me at taffetav@gmail.com